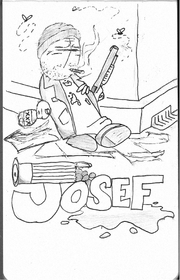 He was a big-time real estate agent in Nevada before the A.A.H.W. bought everything up with speculative housing deals. Originally hailing from Scandinavia, Josef has found himself in dire straits. With only a bottle of whiskey and a shotgun named Mathilde, he plans to pay back the Agency the only way he knows how. By drunkenly shooting at them until he gets what he wants...
REVENGE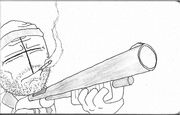 Josef was originally conceived when I was playing around in Madness: Project Nexus and thought it would be funny to have a hobo gunning down everything in sight. A vagabond with a boomstick. The lulz just continued from there.
Please direct comments and criticism to the Talk page.